Advance, NC - Big Shots Next Rise Winter Jam was the last travel basketball event of the year for Big Shots, this being held at the new 8 court Rise Indoor Sports. It was filled with several of Carolina's top teams and rising talent. Carolina Heights, directed by former UNC great PG Ed Cota, stole the show capturing championships in the 14U and 13U divisions. The 14U team defeated Team United, Team Loaded NC and Harnett Co. Hornets to take home the title. Jaxon Neely and Ricky Littlejohn were named Co-MVP's.
Take a look below at the All Star Selection.
14U DIVISION CHAMPS:
CAROLINA HEIGHTS 2026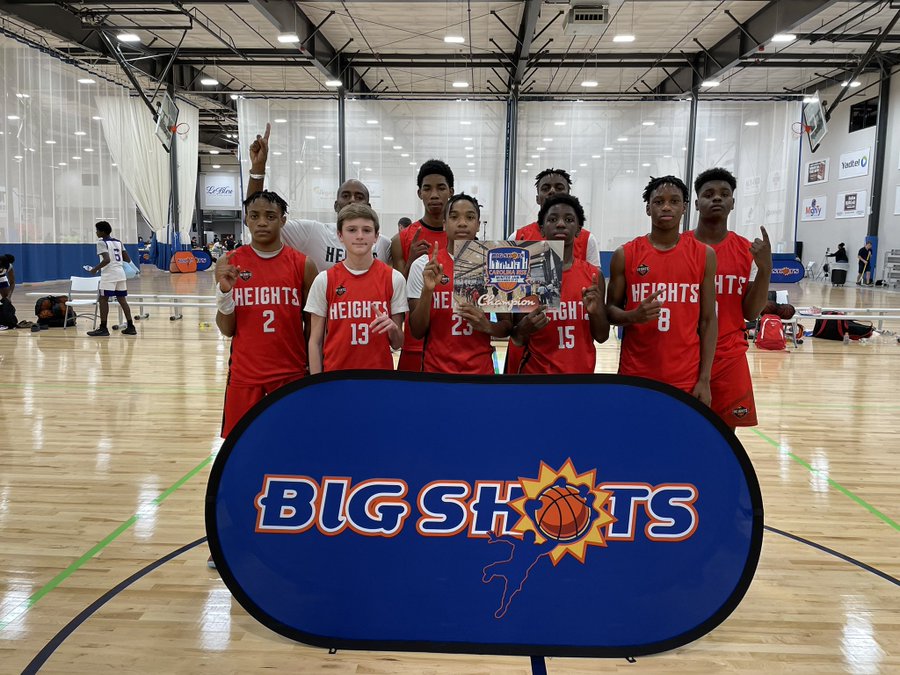 Carolina Heights 2026 went undefeated (3-0) at Big Shots Next Rise Winter Jam and did it in impressive fashion. Carolina Hieghts had the toughest schedule of any team in the division as they faced two of the top 2026 teams in the state in Team Loaded NC & Team United Red. The Heights were led by a number of players but standouts were Jaxon Neely, Ricky Little-John, & King Gibson. Team United has a number of top prospects in various positions headed by high motor forward JoJo Johnson and sharpshooters Max Van and Tre Beamer. Team Loaded NC 6'3 SG Bradley Floyd is solidifying himself as a top SG in NC's 2026 class and a national ranked worthy talent.
Below are the All Star teams for high school based on performance at the Big Shots Winter Jam:
FIRST TEAM ALL STARS: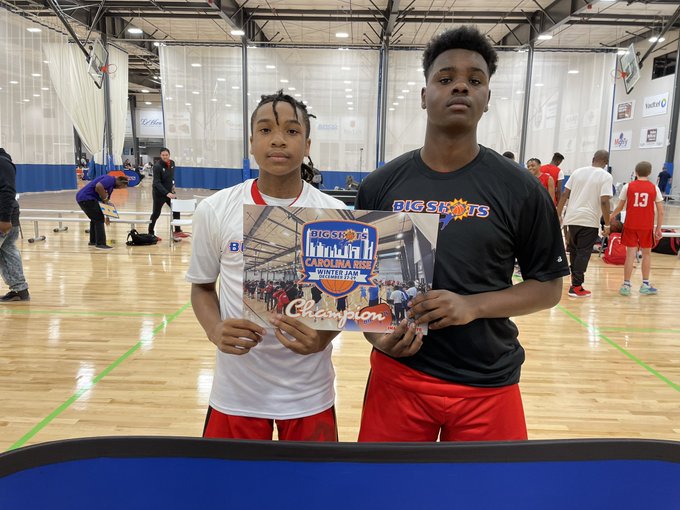 MVP:

Carolina Heights 13 Jaxon Neely

Jaxon Neely was named tournament MVP for his standout play as he helped lead his team to go undefeated. Neely was a force in the paint filling up the stat sheet on rebounds and points. He had multiple double double games at Next Rise Winter Jam and was clearly one of the top players in the entire division. Neely will be a name to watch out for as he continues to get older.
MVP:

Carolina Heights 23 Ricky Little-John

The Co-MVP Ricky Little-John was also named MVP for his standout play in the title game against a tough Team Loaded NC team. Little-John is a super shifty guard that got to his spots all game. The standout guard has a great handle and gets to the basket effortlessly. He scored 14 points in the title game leading all scorers.
Carolina Heights 2 Zaiyir Philips
Zaiyir Philips is the Heights sharpshooter and was dialed in all day at Next Rise Winter Jam. Philips knocked in more than one three in multiple games & was a crucial piece to the Heights offense. Phillips is a smooth lefty that has range and is able to break his defender off the bounce .
Carolina Heights 8 King Gibson
King Gibson wraps up the All Stars for Carolina Heights and Gibson was just as important as any of them. King is a lengthy guard that looks to attack the rim. He continued to make the right play and make plays for both himself and teammates. Gibson has great size for his position and it allows him to be very versatile. Gibson finished the title game with 14 points.
Harnett County Hornets (NC) 5 Romello Pegues 2025 G
Peagues was one of the top scorers in the tournament leading the entire division in scoring, averaging 13.7 points per game. He opened up the day with a 17 point performance and followed that up with back to back double figure games. He was the number one option for the Hornets and was a tough guard to handle.
Team Loaded (NC) 20 Bradley Floyd 2026 G
Bradley Floyd was one of the top prospects at Next Rise Winter Jam standing at 6'3 and the most versatile player of the day. Floyd finished second in scoring, averaging over 11 points. The standout wing has the whole package in terms of size and scoring ability. He has a good handle and is able to put combinations together to create space. He shot the ball from deep and got to the rim at a high level.
Team Loaded (NC) 23 Charlie Foster 2026 C
Foster is a big piece for a well rounded Team Loaded NC team. Foster who stands at 6'5 was good controlling the paint all day. He scored his tournament high 17 points in game 2 against 1 on 1. Charlie has great size and length at such a young age.
Team United Red (NC) 5 ADAM GRIER
Adam Grier finished as Team United Red's game 3 MVP finishing with 10 points and leading his team to a win against Harnett County Hornets. Grier is a core piece to one of the top 2026 teams in the state.
Team United Red (NC) 11 JOJO JOHNSON
Jojo Johnson was the top player for Team United Red and led them in scoring, averaging over double figures at Next Rise Winter Jam. Johnson is a top guard in the division and broke the tournament open with 21 points and a huge win against Team Loaded NC.
Team United Red (NC) 2 MAX VAN WEERDHUIZEN
Weerdhuizen is a key guard for Team United and one of the top shooters for the team as well. He averaged right around double figures and was a piece for a well rounded group. Max was named MVP in game 3 against Harnett County Hornets where he scored 10 points. He is a high IQ and fundamentally sound guard that doesn't make a lot of mistakes.
Team United Red (NC) 3 Tre Beamer
Tre Beamer was a top 5 leading scorer for Team United as he averaged 9 points. He scored his tournament 14 points when it mattered most as they played the tournament champs Carolina Heights. Beamer is a smooth guard that can knock down the outside shot. He made multiple threes over the day.
LEADING SCORERS:
PPG
R. Little-John 14.0
K.14.0
R. Pegues13.7
B. Floyd11.3
J. JOHNSON10.3
J. NEELY10.0
D. Bradley9.0
T. BEAMER9.0
Z. PHILLIPS8.7
J. Woods8.3
C. Foster7.0
N. KEITH5.0
Z. Gladden4.7
J. SANDERS4.3
R. QUICK4.0
I. Tomlinson3.7