Advance, NC - Big Shots Next Rise Winter Jam was the last travel basketball event of the year for Big Shots, this being held at the new 8 court Rise Indoor Sports. It was filled with several of Carolina's top teams and rising talent. Carolina Heights, directed by former UNC great PG Ed Cota, stole the show capturing championships in the 14U and 13U divisions. Carolina Heights 13U was led by MVP Jaleel Smith who averaged 16.7 ppg.
13U/12U division champs
CAROLINA HEIGHTS 2028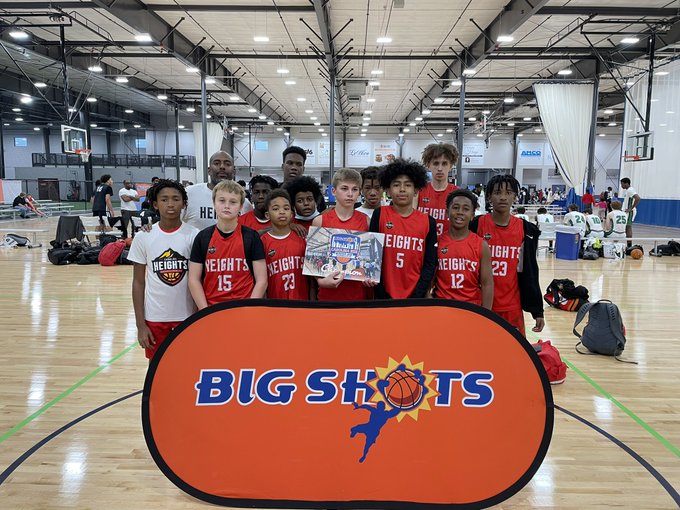 Carolin Heights 2028 went undefeated (3-0) at Big Shots Next Rise Winter Jam after holding opponents to an average of 39 points per game. The Heights closest contest came against a tough Carolina Culture team. Jaleel Smith led Carolina Heights in scoring averaging over 16 points per game.
First team all stars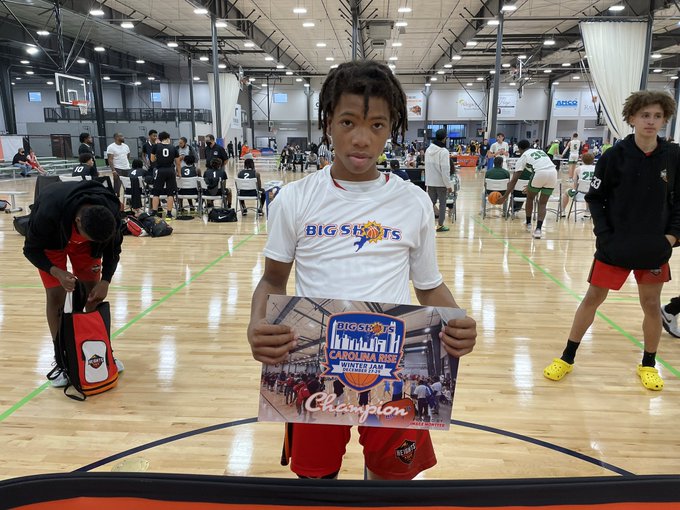 MVP:

Carolina Heights 24 Jaleel Smith 2028

Jaleel Smith was named MVP of the 13U division at Next Rise Winter Jam as he finished second in scoring average with 16.7 ppg. Smith was dominant all day starting off the tournament with a 25 point performance. He is an electric guard that thrives going to the rim and super effective in the open court.
Carolina Culture (NC) 4 Zaveon Porter
Zaveon Porter was a force for Carolina Culture all tournament. Porter helped lead the Culture to a 3-1 record and finish in second place. The only loss came to champions Carolina Culture. Porter is a strong, athletic guard that is very effective attacking downhill.
Carolina Culture (NC) 9 BD Donzo
BD Donzo was the top big man in the division as he dominated the paint all tournament. Donzo and his twin MD Donzo were a force for opposing teams. BD was the leading scorer for the Culture averaging over 12 points per game. He has phenomenal footwork around the rim and is versatile with the ball. BD is a force at such a young age. It will be exciting to watch his progression.
Carolina Culture (NC) 8 MD Donzo
Md Donzo and his brother BD Donzo were forces in the paint for Carolina Culture. MD Donzo was great defensively, cleaning up the glass and altering shots around the rim. He averaged double figures ( 10.3 ppg) at Big Shots Next Rise Winter Jam.
Harnett County Hornets (NC) 4 Malachi Cooke
Harnett County Hornets have a good prospect in Malachi Cook as he was named one of the top guards. Malachi opened up the tournament with a 17 point performance and continued the standout play all day. Cook has great size and length for his position and will be one to keep an eye out for.
Harnett County Hornets (NC) BRANDON STREETER
Brandon Streeter was another standout player for Harnett County Hornets. Streeter had his best game in game 1, scoring 16 points helping keep his average to over double figures. Streeter was very good in the open court, attacking the rim and finishing at a high level.
Team Exposure (NC) 9 Tayshawn Adams 2027 5'8 PG
Tayshawn Adams is an electric guard that was in attack mode all day. Adams is a skillful combo that can make plays at a high level. He can get into the paint with ease while also shooting it from deep. In transition he doesn't let up by pushing the pace and looking to score. Adams averaged over 14 points per game on the day.
Team FLY (NC) 32 DRAETON NANCE
Nance was the leading scorer for Team Fly and the leading scorer of the entire division, averaging over 17 points per game. Nance exploded in the second and third game with 22 and 23 point performances. Nance helped lead his team to a 2-1 record.
Carolina Heights 10 Jaylon Bowden
SECOND TEAM ALL STARS
Carolina Heights 5 Eddie Cota
Carolina Heights 33 Asa Powell
Team FLY (NC) 30 NOAH DULIN
Team Exposure (NC) 23 D Shaun Hicks 2027 5'8 SF
Team Exposure (NC) 0 Matthew Kuppinen 2028 5'1 PG
Team FLY (NC) 4 JUSTIN HAGGLER
Harnett County Hornets (NC) 13 KYRESE WILLIAMS
Carolina Culture (NC) 35 Randy Massey
1 on 1 (SC) 9 Tanner Dagostino 2028 5'1 G
Cap City Clutch 32 Chase Ogline
Cap City Clutch 24 Caymen Davis
leading scorers
PPG
D. NANCE17.3
J. SMITH16.7
T. Adams14.3
N. DULIN13.7
R. JONES12.8
J. HAGGLER10.7
D. CALDWELL10.3
M. Cooke8.3
B. STREETER7.7
W. OLGINE7.0
D. Hicks6.7
J. BOWDEN6.7
W. Gaddy 6.7
M. OLGINE6.3
M. Kuppinen6.3
A. POWELL6.0
L. Little6.0
C. Woodard5.7
C. DAVIS5.5
C. DAVIS5.3