Columbia, SC -- The Bash (formerly Bojangles Bash) was once again the spot to be held at Ridge View High School with several of the premier teams in the country facing off versus many of South Carolina's best.
The teams consisted of several state champions and contenders in Ridge View, Orangeville, Patrick School, Orlando Christian Prep, Augusta Christian, Gray Collegiate, Lexington, Cardinal Newman, Dutch Fork, AC Flora, Keenan, Cannon School, Christ School, Blythewood, and North Mecklenburg.
Orlando Christian Prep went 2-0 on the weekend in showing their national prominence. Ridge View pulled off the upset of the event in a win over Orangeville in the finale.
Players for all levels were on display and below are the top 10 standouts from The Bash: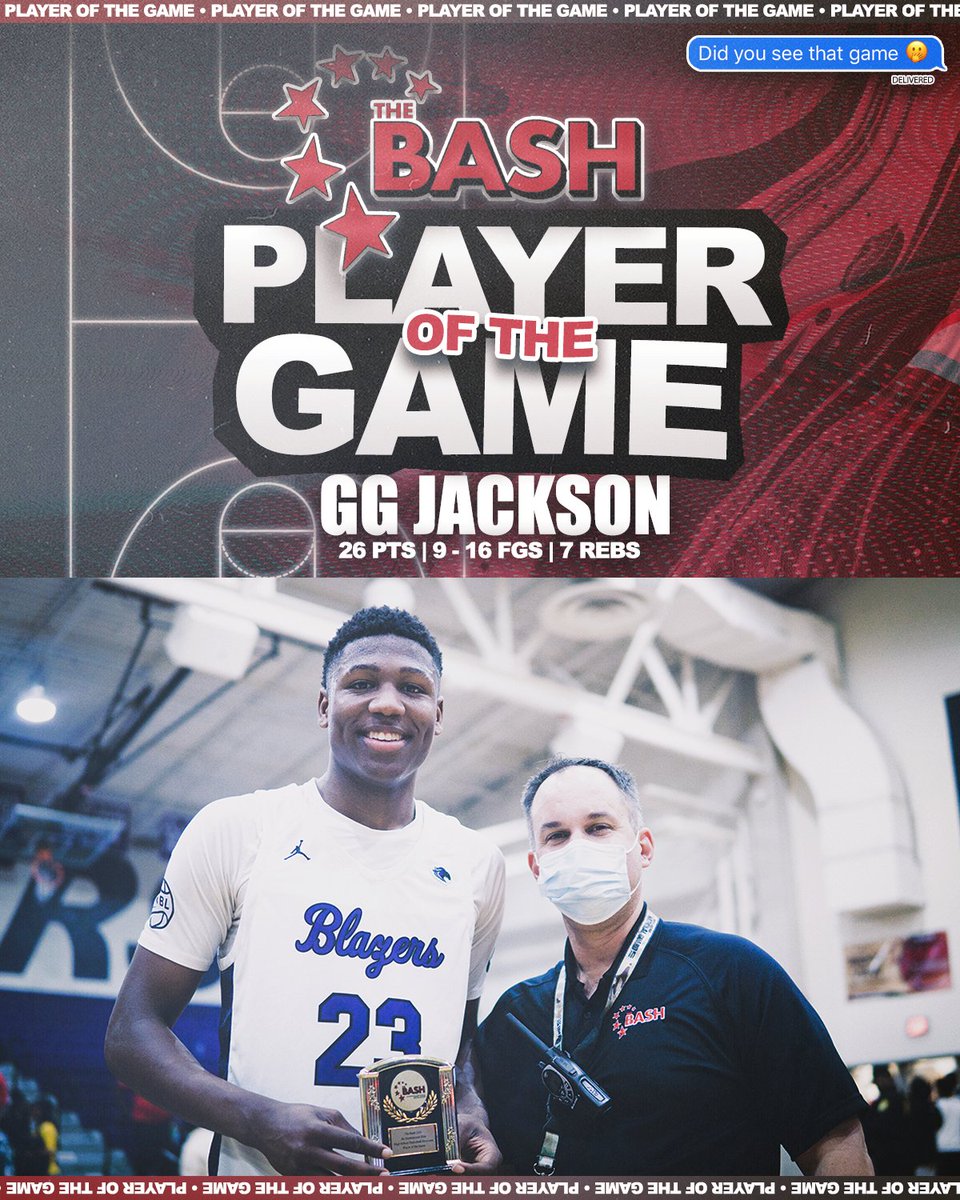 Top 10 Standouts:
MVP: AJ Brown 2022 6'5 G (Orlando Christian Prep)
Signed: Ohio University
AJ Brown was the most outstanding player in the event in averaging a tournament high 26 ppg. The lengthy shooter can score in a number of ways coming off screens, creating his own shot from 3 and mid-range or punching it at the rim. A Top 100 talent nationally that will continue to prove that throughout the season. One of the best gets I've seen this year in Ohio University landing the star shooting guard from Orlando.
GG Jackson 2023 6'8 G/F (Ridge View)
Offers: Duke, UNC, Kansas, South Carolina, Clemson, UVA, NC State, Tennessee, FSU, Florida, VA Tech, Pitt, Syracuse, BC, Pitt, Wake Forest +
One of the most premier players in the country, and earning his spot amongst the all-time greats to ever come out of Columbia. GG Jackson has raised his game to another level this year, coming off a great summer. GG has continued to expand his game with a comfort level on the perimeter of elite status. A clear five-star that will gain momentum to be in the conversation of number one prospect overall. Duke was three deep, South Carolina entire staff, Georgia, Florida St all made appearances to see GG at The Bash.
Ven Allen Lubin 2022 6'8 F (Orlando Christian Prep)
Signed: Notre Dame
Ven Allen Lubin, the Notre Dame signee, showcased his high level versatility scoring inside-out for OCP. The 6'8 skilled forward got to the rim whenever he wanted with his quicks at the 4-spot and powered through defenders using his large frame. Lubin showed he cannot only score inside, but stepped out for a few threes during the event. Top 50 talent nationally, big get for the Irish in landing one of Florida's top talents.
Jeremy Foumena 2022 6'11 F (Orangeville Prep)
BREAKOUT PLAYER OF THE EVENT: Jeremy Foumena, which we believe is a high level center and one of the best available bigs in the 2022 class. He is a double-double machine, with touch around the rim and ability to the 15 foot face up jumper. With his height at 6'11 and wingspan well above 7-feet, he makes an instant impact on defense being able to block, contest, and rebound efficiently. He runs the floor hard, and also has hands to make the catch and finish in traffic. Foumena is a high-energy player with a lot of upside. High majors are starting to jump in on him and expect more to come starring for Orangeville Prep.
Jefferson Mongero 2022 6'4 G (Orangeville Prep)
Offers: Oklahoma State, Bryant
Mongero was the leader for the Orangeville Prep team on both ends of the floor. Mongero showed he is a tough-nosed player playing pressure defense, but also making tough finishes on the offensive end. He is very crafty around the rim, with many different lay-up packages.
Majambu Mbikay 2022 6'8 F (Orangeville Prep)
Offers: Bryant
High flyer of the weekend. With Jam in his name and fittingly so, MJ Mbikay was a highlight reel with his athleticism, having some of the best dunks during the course of the tournament. His athleticism, 6'8 lengthy frame, and hybrid floor game stoodout. He is a lockdown defender that can guard numerous positions and instincts to block shots and get deflections. Mbikay has guard skills but is best when he is in a downhill drive scenario.
Jordan Crawford 2022 6'2 G (North Mecklenburg)
Signed: College of Charleston
Charleston signee Jordan Crawford lit it up from deep making 8-14 3-point field goals and setting the new Bash record en route to 34 points. Jordan can score the ball in many different ways, but showed us why he is a huge threat from downtown. With his future school sitting courtside, Crawford led North Meck to a win and his team has the making to make another state title run.
Collin Murray Boyles 2023 6'8 F (AC Flora)
Offers: UNC Pembroke
Baby Boyles had himself a great weekend at The Bash, leading his team to a victory over Christ School. Collin has always put up big numbers and is one of the most skilled bigs in the state of South Carolina 2023 Class. The 6'7 lefty power forward can put it on the deck, stretch the floor with his perimeter jumper or make the right read hitting the open man out of a double or in transition. He has soft touch around the rim and showed the explosion with several flushes in traffic. Look for his recruiting to only to continue to rise. His game reminds me of DJ Burns (Winthrop star) coming up the ranks.
Cam Scott 2024 6'5 G (Lexington)
Offers: Florida St, Georgia, Clemson, Wake Forest, Texas Tech, VA Tech +
Scott is the top prospect in South Carolina's 2024 class and ranks amongst the elite players at his position nationally. At 6'5 and smooth floor game he showcased his pure stroke from distance and impressed with his skills to make a play off the dribble. A high level prospect that had Florida State and Georgia courtside to see him.
Dionte Johnson 2022 6'0 G (Patrick School)
Offers: Robert Morris / Interest: Coastal Carolina
Dionte Johnson is the true definition of point guard. He makes plays all over the floor with his elite speed, but also can shoot it from deep. He put up efficient numbers in the tournament averaging 15 ppg to lead TPS. Several division 1 programs were courtside checking Johnson out throughout the weekend.
Honorable Mentions:
Isaiah Evans 2024 6'7 F (North Mecklenburg)
Isaiah Williams 2022 6'6 F (Blythewood)
Xavier Moultrie 2023 6'0 G (Ridge View)
Calvin Hall 2022 6'3 G (Gray Collegiate)
Rory Stewart 2022 6'7 F (Orangeville Prep)
Samaad Wright 2022 6'1 G (Blythewood)
Mikel Brown 2025 6'0 PG (Orlando Christian Prep)
Bryce Cokley 2024 6'5 G (Christ School)
Isaiah Henry 2025 6'3 G (Cannon)
Follow @BigShotsNation on Instagram | @BigShotsGlobal on Twitter