Rock Hill, SC- Big Shots Southeast Showdown was the last travel basketball event of the year for big shots and it was held at the Rock Hill Sports and Events Center. It was filled with some of the nation's best as they competed for a chance to take home the crown. There was elite level talent and some new up and coming stars. The Southeast showdown paired with the Southeast Top 150 was a great way to close out the season.
Latrell Allmond was an All Star in the 13U division making a splash as one of the best in the entire division. Allmond was Team Loaded's go to player and he was impressive on both ends. He was key in his teams quest to win the title and it would take two back to back 15 point performances from Allmond to make that happen, as they went on to take home the crown. He scored the ball very well throughout the course of all 4 games, showcasing a little bit of everything in his game. Scoring was his specialty as he lead the entire division in scoring averaging over 13 points per game and earning the InStat MVP award. Team Loaded was dynamic at Big Shots Southeast Showdown, never really being tested. They were elite on not only offense but also defense as they beat their opponents by an average of 21 points.
Another standout in the 13U division was Braden Hazlebaker for Big Shots Elite Tri-Cities. Hazelbaker has made quite the name for himself throughout the Big Shots circuit, being one of the top players week in and week out. He is quite unique when it comes to his skillset only at the age 13. Not to mention he has a great frame and size to set himself apart from others. Over the weekend Hazlebaker played in 5 games and averaged just over 12 points after it was all said and done. He scored in double figures 4 out of 5 and his highest scoring game was 17 against Carolina Hoopsterz Gold. Braden is one to keep an eye out for as he ages through the big shots circuit. With his blend of skill it's only a matter of time before Hazlebaker puts everyone on notice that his game is here to stay..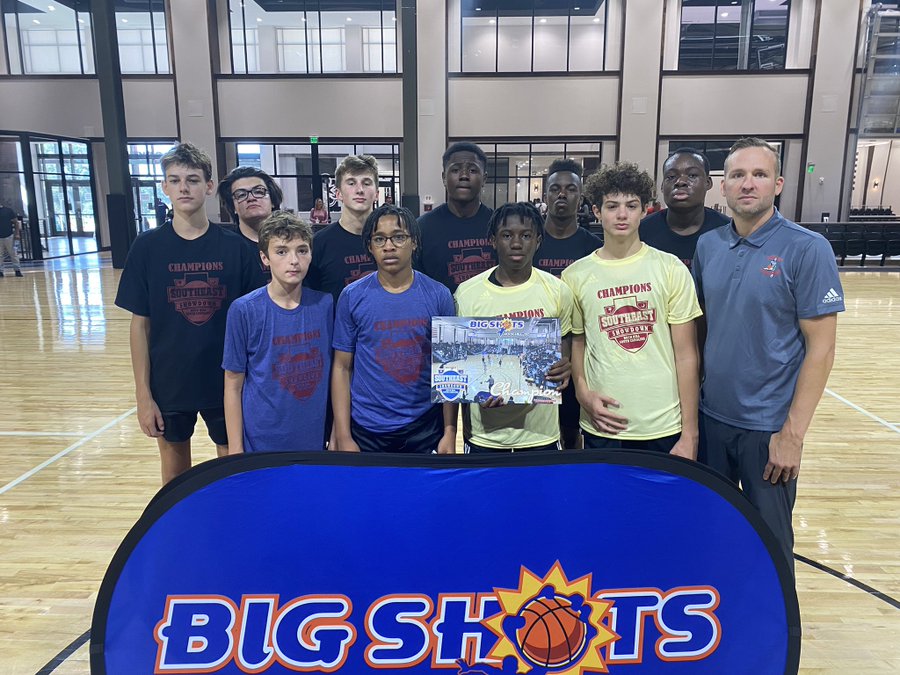 CHAMPS: Team Loaded- 49
RUNNER-UP: Big SHots Elite Tri-Cities- 26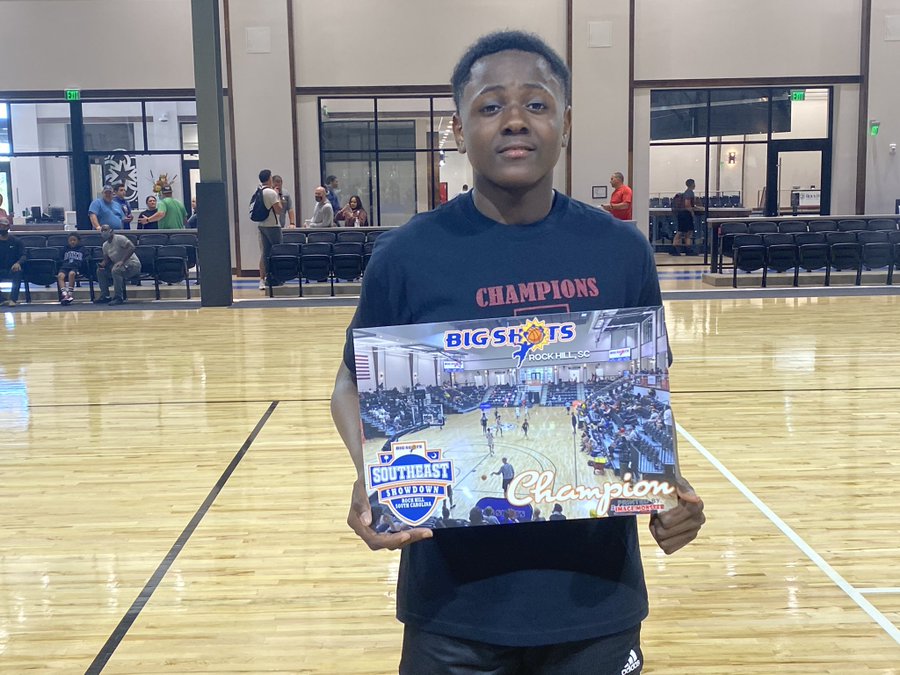 MOST OUTSTANDING PLAYER: Latrell Almond
ALL TOURNAMENT TEAM:
Big Shots Elite Tri-Cities 2026 Brayden Hazelbaker
Big Shots Elite Tri-Cities 2026 Lofton Looney
Big Shots Elite Tri-Cities 2026 Tayshawn Adams
Boo Williams 35 Abraham Taft
Boo Williams 34 Xavier Scott
Carolina Hoopzters Gold 15 Reid Hipp 2026 6'3 F St Mary's
Carolina Hoopzters Gold 0 Dreyton Jackson 2026 5'5 PG Wren Middle
Carolina Hoopzters Gold 34 Juan Montoya 2026 5'6 G St Mary's
Carolina Hoopzters Gold 30 Nathan Wilbourne 2026 6'2 F Langston Charter
Carolina Rockets 2026 Ricky Littlejohn
Crown Academy 2025 Nolan Erikson
Crown Academy 2025 32 Tyler Brown
Coach Mark Gerald Elite 2026 33 CARTER COLEMAN
Coach Mark Gerald Elite 2026 10 Josh Gamble 2026 G
Coach Mark Gerald Elite 2026 11 Andre Littlejohn 2026 F
Team Loaded Cole Cloer
Team Loaded Latrell Almond
Team Loaded Cade Murphy
Team Loaded Jaire Richburg
Team Loaded Amani Asare
Carolina Hoopzters Black 20 Shay Bouharoun 2027 5'3 PG St Mary's
LEADING SCORERS:
PPG
N. EVIESON16.0
L. ALLMOND13.3
N. Wilbourne13.0
X. Scott12.5
B. Hazlebaker12.2
C. MURPHY12.0
A. Taft11.0
C. KLOER10.3
T. Scholls 9.8
R. Hipp9.3
Z. CRUMPTON9.0
S. Bouharoun8.7
A. ASARE8.5
J. Aremu8.0
K. HAYES8.0
C. Bear7.7
T. ADAMS7.6
J. Montoya7.5
J. Gamble7.3
UPCOMING EVENTS: