Rock Hill, SC- Big Shots Carolina Labor Day Classic was a standout event held at the Rock Hill Sports and Events Center. It was filled with some of the nation's best as they competed for a chance to take home the title. There was elite level talent and some new up and coming stars. Big Shots Carolina Labor Day Classic was a great tournament on the holiday weekend.
1-Carolina had a very interesting route to the varsity division championship as they were outnumbered in terms of players on the roster. What they lacked in roster size was made up with talent as they had a handful of all stars on their team. 1-Carolina was led by the Davis twins Kory & Kendall. These two players led the team in not only total points scored but also points per game. Kory Davis finished 3rd in the division in points per game, averaging 26. Davis is a 6'0 combo guard in the class of 2022 and he was on a mission from start to finish. He has great build and uses his strength very well to blow past defenders and finish through contact. Not only can Davis attack but he was shooting the three ball very well at Big Shots Carolina Labor Day Classic. In the title game Davis put on one of the best performances in the entire tournament, scoring 43 points and single handedly pushing his team to overtime. As the title game went to overtime it was obvious who the ball was going to for 1-Carolina & Kory Davis sank a free throw in the final seconds to give his team the win. Kendall Davis on the other hand was just as fiery and competitive as his twin. These two are constantly diving on the floor and making hustle plays that just aren't seen very much in basketball these days. Kendall always seemed to make the right play, he never forced the issue and let his shot come to him. He averaged 13 points per game and a main reason why 1-Carolina took home the crown on Sunday.
The Varsity Division was absolutely stacked with talent as they not only had the #1 2025 & 2024 player in the state of NC but they also had a 16U gold medalist and a top 5 player in the 2022 class as well. Eli Ellis, Paul McNeil, Jaylen Curry, & De'ante Green stacked the competition and didn't disappoint in their performances. The number #1 2024 SG in the nation Paul McNeil was an absolute show in the varsity division. He led all scorers averaging over 28 ppg, finishing off the tournament with 31 and 38 points. The 6'4 SG is the real deal, he has great size/length & uses it perfectly to get past defenders or shoot over them. I was really impressed with his shot making ability over the weekend as he found a way to get his shot off even when heavily guarded. His game is very smooth and has a Paul George like look to it. McNeil is a 5 star player and is already getting offers from schools like Tennessee. He carries himself like a pro and does a little bit of everything.
Jaylen Curry on the other hand came into Big Shots Carolina Labor Day Classic and blew it wide open. He dropped 41 points in his first game against Moravian Prep National 2, scoring the ball in every which way. From the tip off curry seemed to be getting face guarded but it didn't make a difference as Curry got it going early. After knocking in a couple threes it was only a matter of time for him to catch fire. The 6'2 PG is fresh off winning a gold medal with the 16U USA team. He is a high major player and scored 31 in his second game following. Bringing his average to 36 on the weekend.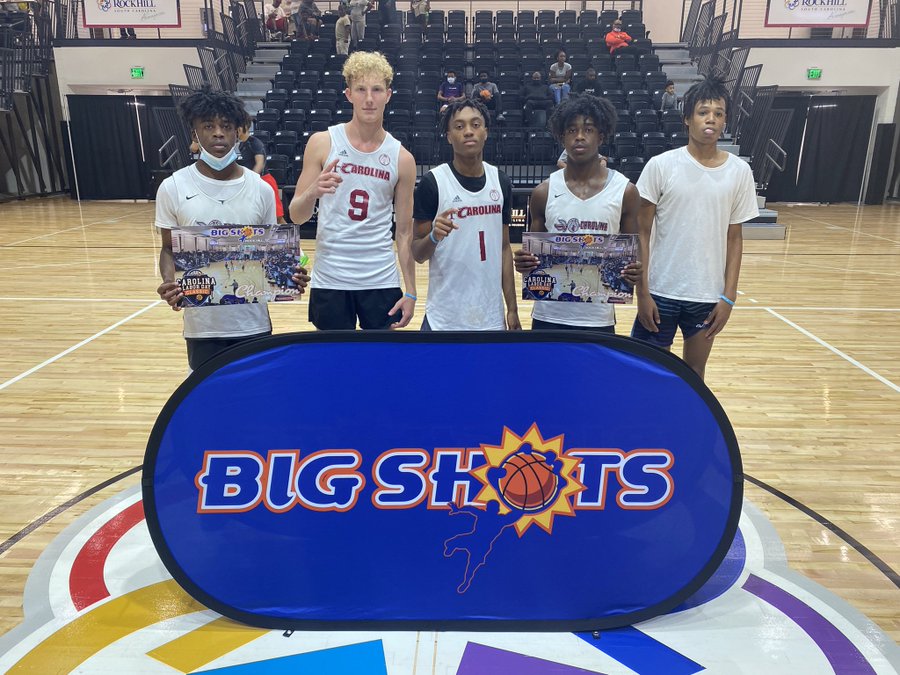 CHAMPS: 1-Carolina - 74
RUNNER-UP: Yokr County Legends- 73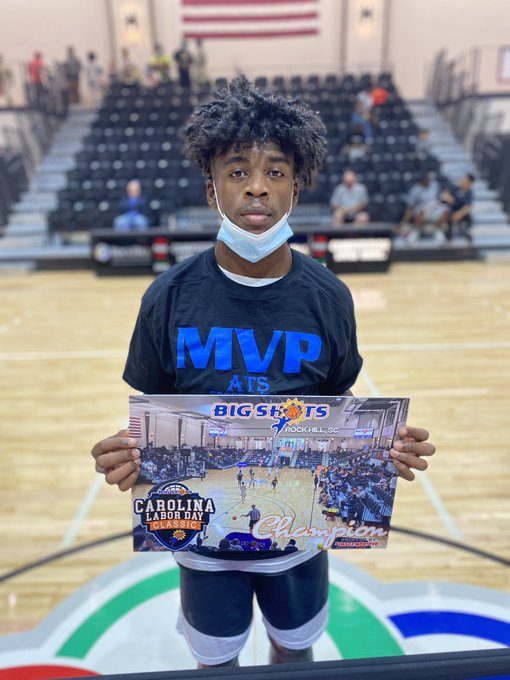 MOST OUTSTANDING PLAYER: Kory Davis
ALL TOURNAMENT TEAM:
1-Carolina 2022 Kendall Davis 2022 6'2'' Guard York Prep
1-Carolina 2022 Kory Davis 2022 6'0'' Guard York Prep
1-Carolina 2022 Jimichael Gladden 2021 5'4'' Guard York Prep
Anthony Morrow Elite{Team Carolina) 5 Evan Ashmore 2023 6-5 wing JL Chambers
Anthony Morrow Elite{Team Carolina) 0 Jaylen Curry 2023 6-2 Point Guard Vance
Anthony Morrow Elite{Team Carolina) 3 Chastin Gatewood 2022 5'11 PG Vance
Anthony Morrow Elite{Team Carolina) 4 zion Mcduffie 2023 6-4 Guard Butler
Botetourt Dazzle- GATA BASKETBALL ACADEMY 12 Ashton Bramblett 2022 6-1 SG Lord Botetourt
Botetourt Dazzle- GATA BASKETBALL ACADEMY 41 Conner Tilley 2022 6-4 SG Lord Botetourt
Moravian Prep National ELI ELLIS
Moravian Prep National JACKSON HOLT
Moravian Prep National LANE LAUDERBAUGH
Moravian Prep National MAYAR WOL
No Way Out 6 De'Marcus Allen 2023 6'4'' PG San Jose Prep
No Way Out 33 AS Thompson 2023 6'5'' PG SG West Nassau
No Way Out 35 Nutorious Turner 2023 6'0'' SG PF Home School
Richmond Jammers 24 Paul McNeil 2024 6'4 Guard Richmond Sr. High
Richmond Jammers 15 Jamarion Wall 2024 6'1 Guard Richmond Sr HIgh
Riptide 2023 9 JY GLADDEN
Riptide 2023 JJ Mata
Riptide 2023 21 QUENTIN HOUSTON
Riptide 2023 1 JONATHAN MATA
team vision 25 DEANTE GREEN 2022 6'10 FORWARD asheville christian academy
team vision 5 DANTE OLIVER 2023 6'5 G asheville christian academy
team vision 0 CASIAN RICHARD 2023 5-9 PG CARVER
Winston 76ers 2023 30 Jordan Davis 2023 6'1'' Guard East Surry High School
Winston 76ers 2023 15 Ethan Smith 2022 6-7 Wing High Point Christian Academy
Winston 76ers 2023 45 Trey Tisdale 2023 6-5 SG Forsyth Country Day School
York County Legends 8 Jayden Boyd 2023 6'7'' Forward Northwestern High School
York County Legends 0 Ladarius Cloud 2024 5'8" PG Lancaster
York County Legends 3 Grayson Kirk 2023 6'2 guard Lancaster High School
York County Legends 4 Kanye Nelson 2023 6'1'' Guard Legion Collegiate
York County Legends 10 Jordan Watford 2025 6-4 Guard Lancaster High
LEADING SCORERS:
PPG
P. McNeil28.8
J. Thompson26.7
K. Davis26.0
J. BANKS20.0
L. LAUDERBAUGH19.0
C. KEARNEY18.0
J. Curry17.8
N. Turner17.3
G. Kirk 17.3
J. GLADDEN16.5
M. WOL16.0
R. ROBERTS16.0
J. HOLT15.0
A. Bramblett14.5
J. Wall14.0
z. Mcduffie13.8
K. Davis12.7
E. ELLIS12.5
K. Nelson12.5
O. Walters12.3
UPCOMING EVENTS: