Gatlinburg, TN - Big Shots Rocky Top Mayhem brought together 90 teams representing 14 different states. Each year this event has national level talent and teams with sleepers that have breakout performances.
In the 15u division, Airious Bailey wins MVP and the title in the Rocky Top Mayhem 15u tournament. He had 23 points in the title game and averaged 17.3 ppg throughout the tournament. Bailey is a 6'7 SF, he plays for We Get Buckets 2024 and goes to Bloyd Buchanan High School.
Caden Windle was the leader scorer of the 15U Rocky Top Mayhem tournament. He averaged 21 ppg, Windle is a 6'3 guard plays for B-Maze-Robertson and goes to William Blount High School.
Check out the Champion and All Star Teams below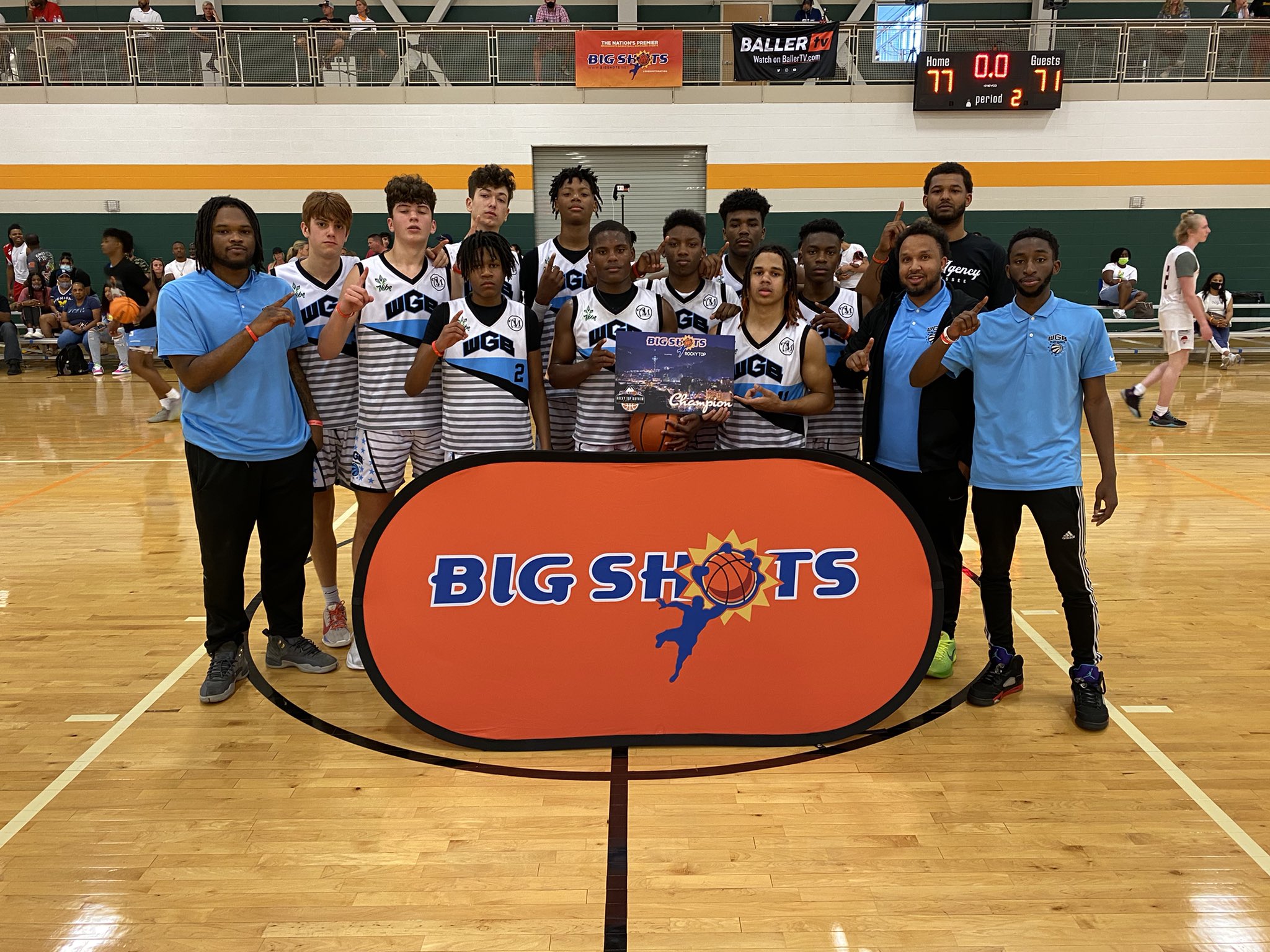 CHAMPIONS: WE GET BUCKETS
RUNNER UP: NC RIM RUNNERS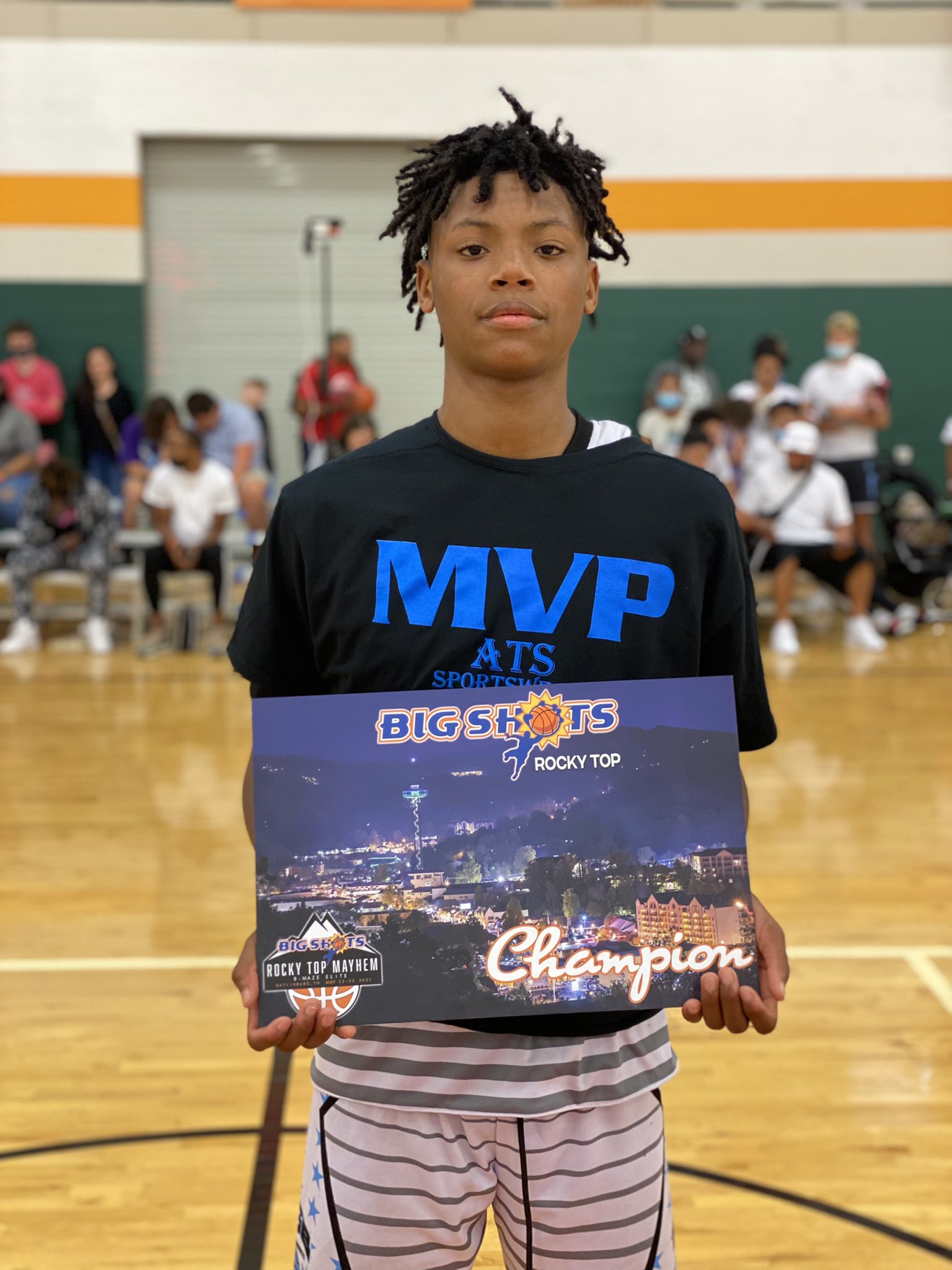 MVP: AIRIOUS BAILEY, WE GET BUCKETS
15U ALL STAR TEAM
B Maze Elite-Kelby 33 Markeis Barrett
B Maze Elite-Kelby 2 Jahvin Carter
B Maze Elite-Kelby 24 Alex Doerger
B Maze Elite-Kelby 3 Brandon Winton
B Maze-Robertson 14 Kaden Brightharp 2024 5-10 guard oak ridge high school
B Maze-Robertson 11 Grady Robertson 2024 6-1 Guard
B Maze-Robertson 20 Caden Windle 2024 6-3 guard William Blount High School
Carolina Gaters 2024 23 Dominique Payne
JBC 15 Bryson Bilbrey 2024 6-1 F York Institute
JBC 2 Jackson Conatser 2024 5-8 SG/PG York Institute
NC Rim Runners 2024 3 Drew Hollifield 2024 6'0 Guard Shelby High
NC Rim Runners 2024 2 Trace Moffitt 2024 6'5 forward Trinity High School
NC Rim Runners 2024 55 Luis Rivera 2024 6'9 forward Traid Math Science
NC Rim Runners 2024 0 Eli Ellis
Next Level Elite 2024 3 Markevious Abney 2024 6'0 G Southside HS
Next Level Elite 2024 20 Franklin Davis 2024 6'2 G Landrum HS
Next Level Elite 2024 0 Makell Hiers 2024 6'4 G/F Spartanburg HS
Next Level Elite 2024 5 Cam O'Kelley 2024 6'2 G Seneca HS
TN Primetime 9th 9 Patrick Carey 2025 5-8 Point Guard Apostolic Christian School
TN Primetime 9th 3 Kaleb Walker 2024 6-0 Guard Powell High School
TN Primetime 9th 8 Ben Stovall 2024 5-11 Guard Knoxville Catholic
We Get Buckets 2024 4 Airious Bailey 2024 6-7 SF Boyd Buchanan
We Get Buckets 2024 1 Orlando Carter 2024 5-11 PG Chattanooga Christian
We Get Buckets 2024 23 Ashton Munson 2024 5-9 PG East Hamilton High School
We Get Buckets 2024 24 Brett Wright 2024 6'5 SG Silverdale Baptist
We Get Buckets 2024 23 Ashton Munson 2024 5-9 PG East Hamilton High School
West Virginia Crossover 14 Kris Joyce 2024 5.1 Point guarde Princeton high
West Virginia Crossover 21 Koen Sartin 2024 6.2 Guard/ small forward Princeton high
West Virginia Crossover 45 David Thomas 2024 6.5 Center Pikeview high
Wildcat Select 2024 3 Maki Cary
Wildcat Select 2024 4 Malik Mcneely
Wildcat Select 2024 6 Dillon Tingler
Wildcat Select 2024 7 Jayallen Turner
LEADING SCORERS
PPG
C. Windle21.0
E. Ellis19.7
D. Payne19.5
A. Bailey17.3
G. Robertson16.5
B. Wright15.5
D. Tingler14.7
M. Mcneely14.3
K. Sartin14.0
K. Walker13.8
B. Stovall13.3
B. Winton13.3
C. O'Kelley12.7
F. Davis12.0
M. Cary11.7
K. Brightharp11.5
K. Joyce11.5
T. Moffitt11.0
B. Bilbrey10.7
J. Conatser10.7
UPCOMING BIG SHOTS 2021 EVENTS