Myrtle Beach, SC - Big Shots Myrtle Beach has brought many stars to the Beach over the years and the Tip-Off continued that tradition.
Title Game
In the 17U division, one of the nation's elite 2025 prospects Eli Ellis and NC's top available 2021 BJ Freeman helped lead Big Shots Elite NC 2022 Ellis to the title in a 59-52 win over Big Shots Elite SC Premier.
NC's top 2025 Eli Ellis was scoring all over the court en route to averaging 25 ppg in the tourney. An elite scorer nationally that has already eclipsed 2000 varsity points before his freshman year of high school. Ellis currently holds offers from High Point and Southern Miss.
BJ Freeman continues to make a statement every time out as the 6'6 versatile wing creates a matchup with his size and handle scoring at the rim.
Big Shots Elite SC Premier was led by backcourt of Calvin Hall & Russell Brunson with two scholarship 2021 inside-out forwards in Daniel Mayfield and Tre'Von Spillers and a top 5 prospect in SC 2022 in 6'7 guard Zach Davis. 6'8 lefty hybrid forward Spillers led the team in scoring.
Check out the Big Shots Myrtle Beach Spring Tip-Off All Stars below:

Gold Champions: Big Shots Elite NC 2022 ELLIS
Runner Up: Big Shots Elite SC Premier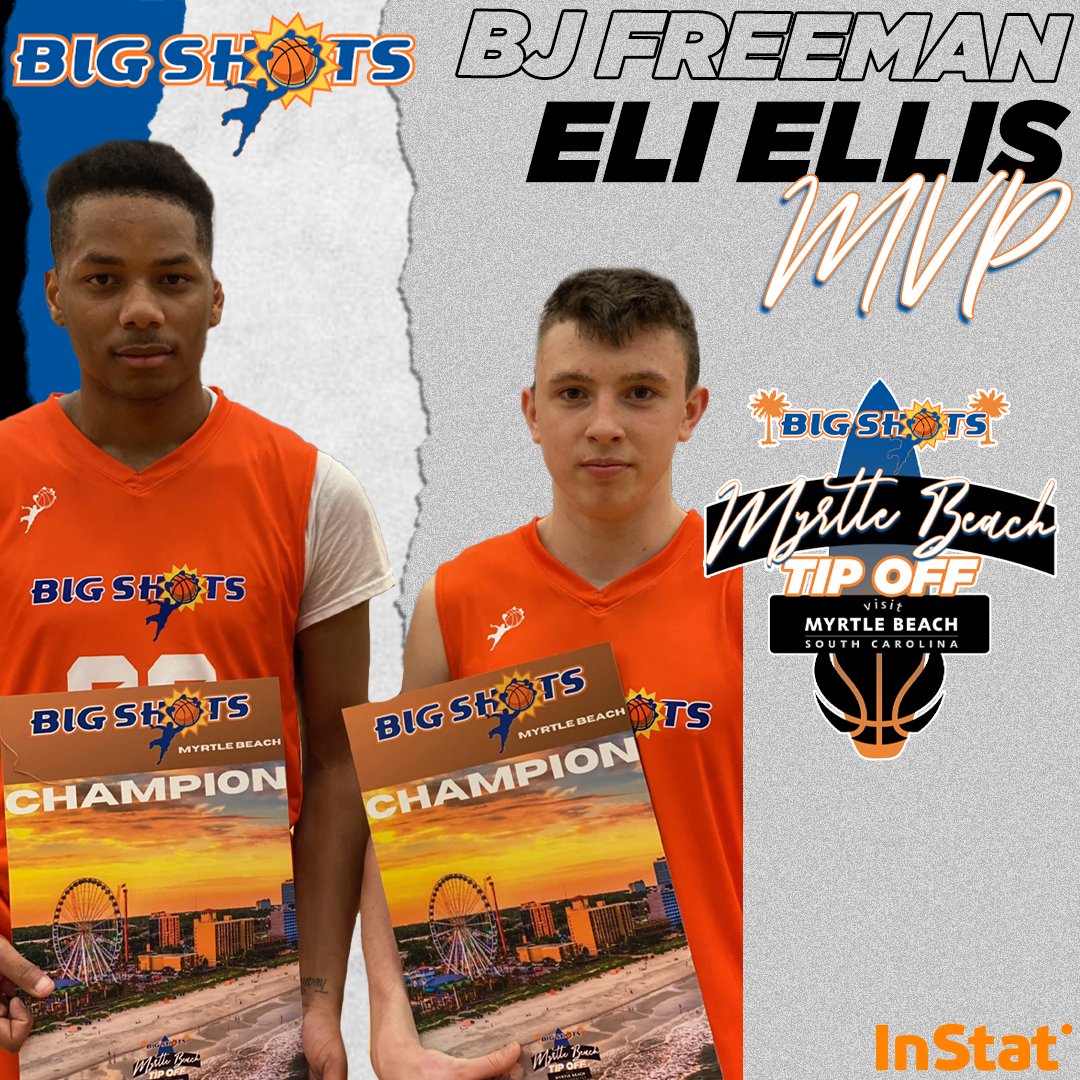 InStat Most outstanding players: 2025 eli ellis & 2021 BJ Freeman, big shots Elite NC
FIRST TEAM ALL STARS
MVP: Big Shots Elite NC 2022 Ellis Eli Ellis 2025 5'11'' Guard
MVP: Big Shots Elite NC 2022 Ellis BJ Freeman 2021 6'7'' Guard Moravian Prep
Big Shots Elite NC 2022 Ellis Jackson Holt 2022 6'4'' Guard Moravian Prep
Flight 22 Elite 17 Charlie Miller 2021 6'0 PG Lumberton
Flight 22 Elite 17 Collin Tanner 2022 6'5 SG South Granville
Big Shots Elite SC Premier Russell Brunson 2022 6'2 PG/SG Calhoun County High School
Big Shots Elite SC Premier Calvin Hall 2022 6'2'' CG Gray Collegiate Academy
Big Shots Elite SC Premier Tre'Von Spillers 2021 6'7'' SF/Versatile 4 Military Magnet Academy
Big Shots Select Winston-Salem Jalante Edwards 2022 6'4 Forward Atkins
Carolina Riptide 2022 Trey Ramsey 2022 6-8 Forward West
Big Shots Select Winston-Salem Anthony Sellars 2022 6'7 Forward QEA
UC27 Carolina DreamChasers Demetri Gardner
UC27 Carolina DreamChasers Keeyan Itejere
Defenders 2022 Elite Delanyc Shuler
Defenders 2022 Elite Austin Medlin
Big Shots Select Winston-Salem Camian Shell 2022 5'10 Point Guard QEA
Carolina Riptide 2022 Cole Callaway 2023 6-4 Guard PLP
Carolina Ballin Heston Foster 2022 6ft3 small forward Virtual Academy
Big Shots Elite SC Premier Daniel Mayfield 2021 6'8'' Wing Franklin Prep
SECOND TEAM ALL STARS
Carolina Knights Logan Adams 2021 6-2 Guard Western Alamance High School
Carolina Knights Keyln Riley 2021 6-0 Point Guard Believe Academy
Carolina Riptide 2022 Evan Presnell 2022 5-11 Guard Alexander
Big Shots Elite SC Premier Zachary Davis 2022 6'7 PG,SG,SF Denmark Olar High School
CF ELITE SELECT Mikah Nelson 2022 6'6'' C Carolina Forest High School
Big Shots Select Winston-Salem Aaron Potter 2021 5'11 Point Guard Winston-Salem Christian
CF ELITE SELECT Grant Warren` 2021 6-0 SG Carolina Forest High School
Flight 22 Elite 17 Cannon Keziah
BHB 17 Demarco Bethea
Defenders 2022 Select Jacob Anderson
Flight 22 17 Select Gavin Guion
Flight 22 17 Select Mark Walker
Flight 22 17 Wilmington Jacob Fisher 2022 6'2'' Guard Hoggard
Flight 22 17 Wilmington Lenier Pocknett 2022 6'5'' Center New Hanover
PS8 Basketball (NC) Danique Daniels-Crump 2022 6'2 SG PMA
TLBA 17 Joey Sutton 2021 6'0'' Guard Moravian Prep
UC27 Carolina DreamChasers Stefon McLeod
Big Shots Elite NC 2022 Ellis Shane Peterson
Leading Scorers
PPG
h. foster27.3
T. Ramsey19.3
C. Callaway18.5
C. Miller18.0
J. Anderson17.0
C. Tanner16.5
M. Nelson15.7
A. Medlin15.5
D. Bethea15.5
D. Daniels-Crump15.0
Q. Tisdale15.0
T. Miles15.0
D. Shuler13.3
L. Pocknett13.0
L. Adams 13.0
R. Seymour13.0
B. Erazo12.5
E. Presnell12.0
K. Itejere11.8
M. Walker11.5
Upcoming BIG SHOTS 2021 Events
Follow @BigShotsNation on Instagram | @BigShotsGlobal on Twitter