Rocky Mount, NC- Big Shots North Carolina Tip-Off annually brings out the Hoop State and region's top talent and teams. It was great to be back in the state of North Carolina with a sold out event once again at the 8 court Rocky Mount Event Center as many players made their mark at the state's premier March tip-off tournament.
Throughout the circuit season you recognize teams that get hot improve, gel and flourish into championships and scholarships for prospects. Boo Williams Carolina 2022 is that team in North Carolina in the early season as they are riding a 6 game winning streak en route to winning the 17U championship 80-65 over Team Extreme (NC).
Hybrid Broderick Ellis earned InStat MVP honors along one of NC's top 2022 shooters Po'Boigh King showed why he holds several high major offers.
Treyvon Byrd was a top overall performer in leading Team Extreme to the title game. Byrd holds several division-one offers. Scoring guard Marcus Willis of the Carolina Cougars led the division in scoring at 28.7 ppg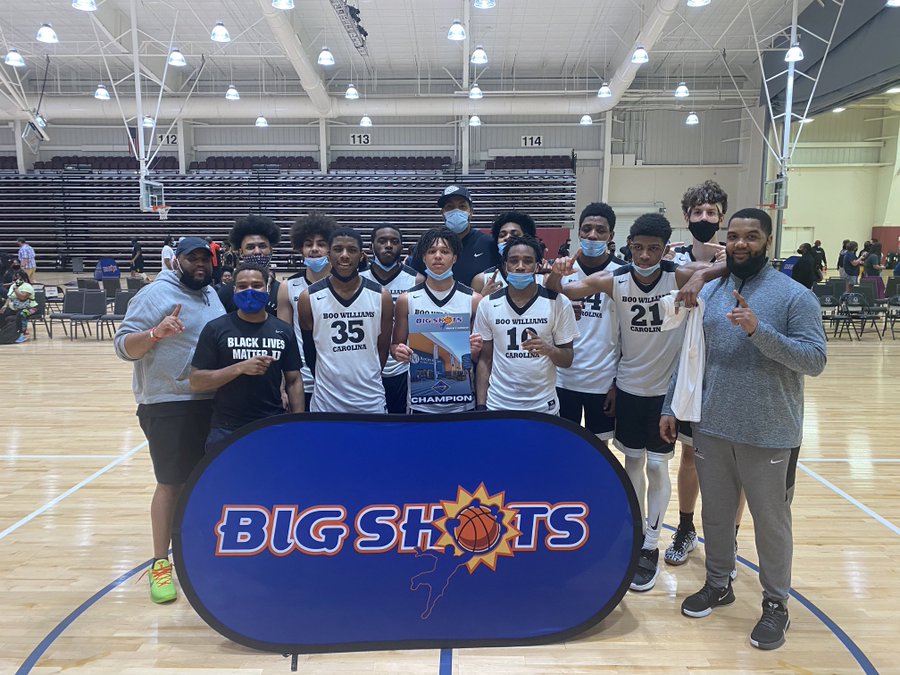 GOLD Champions: Boo Williams CAROLINA (NC)
Runner Up: Team Extreme (NC)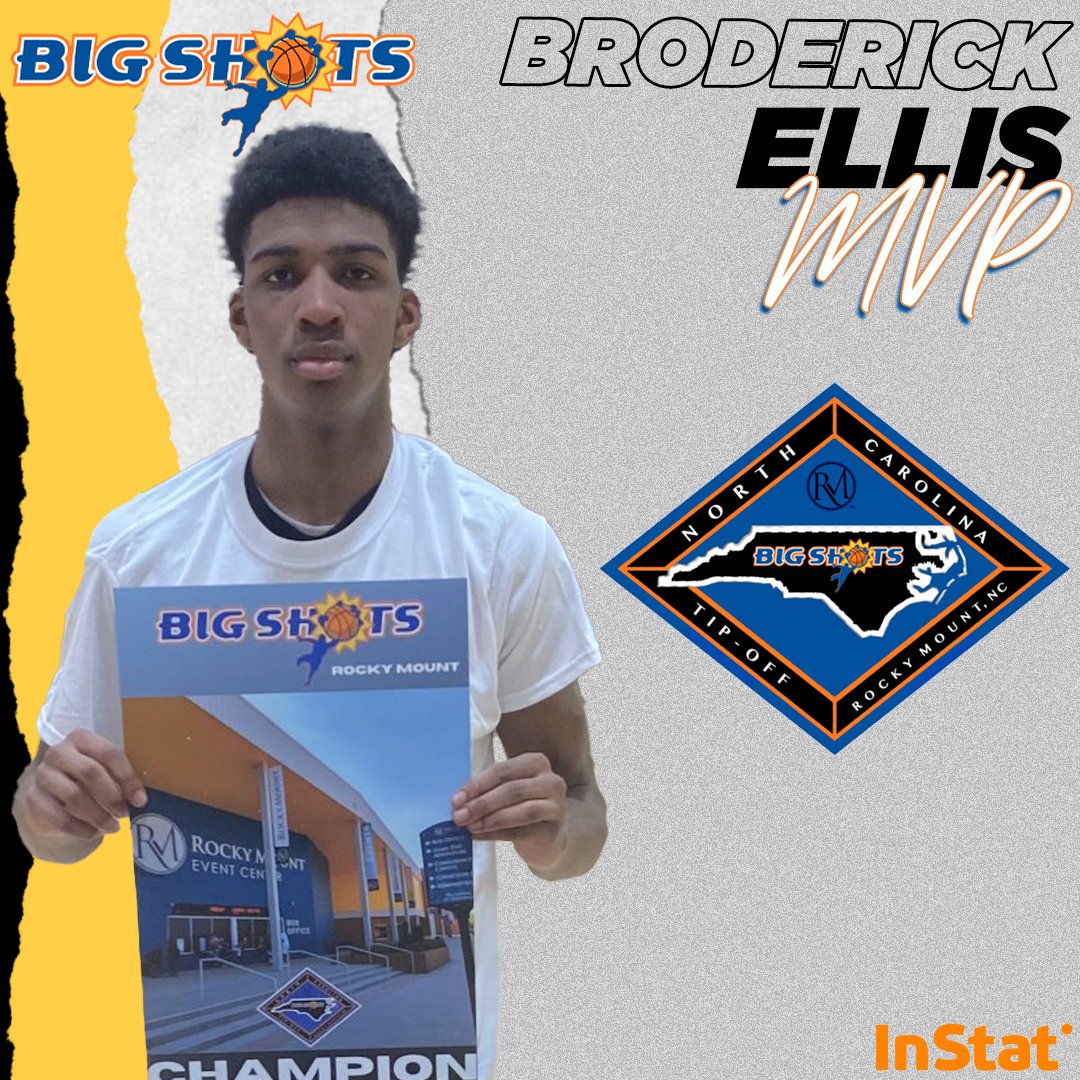 InStat Most Outstanding Player: Broderick Ellis Jr., 2022 Boo Williams Carolina
1st Team ALL STARS
Boo Williams Carolina 21 BRODERICK ELLIS 2022 6'7 PF
Boo Williams Carolina 3 PO'BOIGH KING 2022 6'4 SG
Harts Select 12 Jaheim Taylor 2021 6'3 Guard Princeton HS
Team Extreme 17 4 Treyvon Byrd 2022 6'6 Wing
Team Extreme 17 23 Rayshawn Leach 6'0 PG
ALL Carolina NC 2022 7 Julius Peacock 2021 6-7 Forward Heritage High School
ALL Carolina NC 2022 2 Justin Monden 2022 5-10 Guard Heritage High School
Boo Williams Carolina 15 JASHAUN HAWKINS 2022 6'5 F
Boo Williams Carolina 35 ELIJAH THOMAS 2022 6'2 SG
Brand X 12 Jaxon Ellingsworth 2022 6' 8.5'' Forward West Carteret
Brand X 3 Mikhail Pocknett 2022 6' 6'' Forward Ashley
Bull City Silverbacks 2022 6 Jeremiah Crudup
Carolina Cougars 13 Marcus Willis 2022 5'11 Guard United Faith Christian
Eastern Carolina Phenomz 2022 8 Jamir Bryant 2022 6-3 Guard New Bern High
Team Trezz 22 Jacari Outlaw 2022 6'6 sg/sf bull city prep
Team Trezz 2 Alkevion Waller 2022 5'8 PG Jh Rose
Team Trezz 21 Khouri Carvey 2022 6'8 sf/pf community christain
Brand X 3 Mikhail Pocknett 2022 6' 6'' Forward Ashley
Team Disciples 2022 3 JAYLEN HEARON
2nd Team ALL STARS
ALL Carolina NC 2022 Dwayne Anderson 2021 6-3 Guard Voyager Academy
Team Trezz 0 Anthony Speight 2023 6'3'' pg/sg community christain
Beach Xplosion 2021 12 William Lodge II 2022 5-10 Guard Tallwood High
Beach Xplosion 2021 5 Antony Smullen 2022 6-1 Guard Tallwood High
Boo Williams Carolina 44 JAJUAN NICHOLS
Brand X 2 Kameron Byrd 2022 6' 5 WIng Walter Williams
Brand X 23 Nasir Blackston 2021 6' 5 WIng Wilson Prep
Carolina Cougars 1 Joel Taylor III 2022 6'2 Guard
CBE 204 Howell 17 31 Albert Brown 2022 6-4 Foward Eastern Wayne
CBE 204 Howell 17 8 Lamont Speight 2021 6-1 Guard North Pitt
Eastern Carolina Phenomz 2022 5 William Brimmer 2023 6-4 Guard/Foward New Bern High
Harts Select 11 Cooper Hart 2021 6''1'' Guard Fuquay Varina High School
No Guts No Glory 17 0 Joshua Johnson
No Guts No Glory 17 12 Patrick Malott
Team Disciples 2022 15 JOHN HENDERSON
Team Extreme 17 10 T. Alston
3RD Team ALL STARS
ALL Carolina NC 2022 Jaylen Bowen 2022 5-9 Guard Millbrook High School
Gate City Grizzlies 2 Spencer Jones 2022 6'4 Guard/Forward Martinsville
Gate City Grizzlies 1 Spencer Hairston 2023 5'11 Pg, Sg Martinsville High School
Boo Williams Carolina 33 JALIK NICHOLS
Carolina Ruff Ryders 17 33 Trey Barker 2022 6-3 Forward Trinity Academy
VA Bulls 17 12 BRANDON PULLEY
Carolina Ruff Ryders 17 23 RJ Grant 2023 5-9 Guard Wake Forest
CBE 204 Howell 17 15 Jaylen Fields 2022 6-5 Guard Vance County
Harts Select 4 Dylan Setzer 2023 6''1'' Guard Apex HS
Gate City Grizzlies 4 Stefan McLaughlin 2021 6-0 Guard Morehead High School
Harts Select 30 John Jackson
Iron Sharpens Iron 8 Elijah Preddy 2023 5'11 Point Guard Wakefield
Harts Select 13 Jaedyn Bayley 2023 6'7'' Forward Fuquay Varina High School
Iron Sharpens Iron 3 Drew Rogers 2022 6'4 Forward Crossroads Christian
Team Extreme 17 11 A Omar
Team Trezz 3 Deontay Joseph 2022 6'0 pg/sg DH Conley
Leading Scorers
PPG
M. Willis28.7
J. Taylor23.0
J. Carter18.0
M. Pocknett17.7
J. Jones17.0
A. Smullen16.7
W. Lodge II16.7
R. Leach16.0
J. Monden15.7
S. Jones15.7
D. Rogers15.5
C. Hart15.0
B. PULLEY14.7
T. Byrd14.6
J. Taylor III14.3
R. Grant14.0
T. Barker14.0
J. Bryant13.7
B. Gladieux13.5
D. Anderson13.3
Upcoming BIG SHOTS 2021 Events
Follow @BigShotsNation on Instagram | @BigShotsGlobal on Twitter