North Carolina Blazers win 17U Gold Title
The North Carolina Blazers made their debut on the Big Shots stage with a bang, winning the Gold Division crown in the 17U Division. The NC Blazers featured just six players in their rotation, but it didn't slow them down as they finished atop the bracket as champions.
They were led by 6-foot-3 wing/guard Daylan Askew, who produced 23.3 ppg across their games including the game-winning shot in overtime against Big Shops Mauldin CPA. He posted 28 points along with five made 3-pointers in a big win over West Virginia Reign Elite in the second round of bracket play. Askew was an impressive scorer on all three levels and knocked down eight 3-pointers en route to the title.
Dylan Blake was another name featured with the NC Blazers. He showed off his range on the perimeter, which included a 20-point effort that saw him knock down six 3-pointers in the semi-final round. Kamari Braswell, Isaac Dobie, Jared Gwatkins and Deandre Proctor were the other names that stood out for the NC Blazers. They were a dominant squad and should be a squad to watch in future events.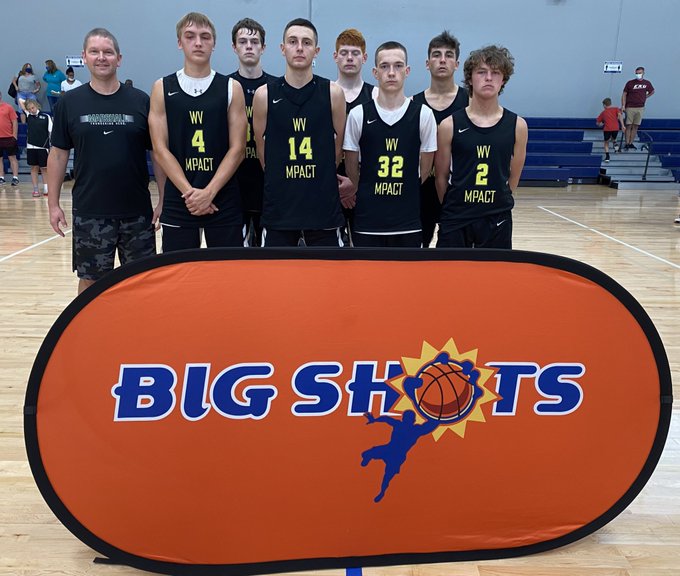 WV Mpact 2021 bounces back with a Bronze Title
In the Bronze Division, West Virginia Mpact 2021 made waves in the end as the title winner. They were led by Ben Gilliam and Kirk Pence in the backcourt this past weekend. Both finished with 21 points apiece in their 93-89 title victory over SC Ballers Elite. William Gabbert put up 14 points (two 3-pointers), Carson Dennis finished with 15 points and John Blankenship finished with 10 points as well.
They're talented squad with a ton of prospects on all different levels. Pence is a knockdown shooter off the catch and off the dribble. Gilliam is a gritty guard that likes getting to the rim and making plays. Dennis is a playmaker that makes an impact in a variety of ways as is Blankenship.
Gabbert and Pence were among the top leaders in free throws made (10) by the end of the weekend. They are two quality options out of the backcourt that know how to create opportunities.
Team HoopState stakes their claim in 16U
It was a party for Treyvon Bryd and Team HoopState in the 16U Division as they flew through early bracket play winning their opening day games 57-25 and 71-38 to make it all the way to the title game.
Team Richmond-Select was their best foe in the championship game and they gave Team HoopState everything they could handle, but in the end, THS prevailed 50-47 thanks to a late run from Byrd and company. Byrd finished with 11 points while Broderick Ellis Jr. finished with 15 points and Keyon Webb finished with 12 points.
Byrd is a two-way threat that makes plays with and without the ball in his hands. Ellis is a versatile forward that can make things happen on all three levels and has a knack for getting to the rim. Webb is a strong guard that likes to get downhill and finish in traffic.
Rival Axselle paced the effort for Team Richmond-Select with 15 points, showing off his ability to get to the rim and finish no matter who was in front of him.
HoopState Select returns with a strong performance
HoopState Select flexed their muscles in the 15U division as they won the title in the end. Amari Odom and Jaybron Harvey shared co-MVP honors for HoopState Select as they dominated the 15U Division on their way to the title. They defeated Strong Center Elite 74-38 in the championship game behind 21 points apiece from Odom and Keshawn Brown, another guard that can score it on all three levels. Messiah Pitt and Shaun Kenedy also put up 11 points apiece in the title game. Odom produced 15.3 ppg and knocked down nine 3-pointers while Harvey showed off his ability to dominate the paint on both ends.
Lowcountry elite Wins 14U Crown
Lowcountry Elite, Montreal Jenkins and Rashad Simmons Jr. showed they were the team to beat at the 14U level, winning the Gold title, 58-35 over Team Heat in the end. Simmons led the way in the title game with 15 points while Jenkins put up six points and took home overall MVP honors in the division. Jenkins and Simmons are quite the tandem in the backcourt for Lowcountry Elite.
Team Heat was paced by the backcourt of Quadir Scott and J'Sean Faulkner. Scott led the division in total points (71), scoring average (17.8 ppg) and free throws made (13).
24/7 Jr. Ballers win 13U led by Michael Jordan
Michael Jordan and the 24/7 Jr. Ballers won the 13U Division crown as he led the division in scoring en route to the title. Jordan finished the weekend averaging 16.8 ppg and led the way with a total of 67 points. He posted 20 points in the championship game to pace his squad's offense. John Micheal-Jenkins also finished with 15 points, showing off his 3-point stroke and ability to get to the rim.
The Strong Center shows it depth
In 12U action, The Strong Center showed off their balanced attack to take home the Gold crown in the end. Tayshawn Adams took home MVP honors with nine points and an explosive defensive effort. Beckett Coon posted 10 points as well along with two made 3-pointers. Big man Luca Wistehuff showed off his ability in the paint with 13 points.
Lowcountry Elite wins another title at 11U
Lowcountry Elite showed off their program's power with another title victory at the 11U level. They held on in a close one in the end over Wilmington Excel, 53-44. John Cleveland led the way in the paint with 18 points along with four made free throws. He took home MVP honors after a strong weekend where he produced 16.7 ppg.